A Barlow lens is a cost-efficient way of enhancing your telescope's magnification abilities. Therefore, by getting the right one for your needs, you can expand your backyard observational capabilities in astronomy.
Quick Cheat Sheet
| Size | MFG | Model | Price | Quality | Why it Made the List | Amazon Link |
| --- | --- | --- | --- | --- | --- | --- |
| 1.25" | Svbony | FUSF9108A | 17 | 5 | Best Price | Learn More |
| 1.25" | Astromania | SKU_AM_BL1X3 | 30 | 6 | Best at a Budget | Learn More |
| 2" | Astromania | SKU_AM_BL2ED | 58 | 6 | Best Price | Learn More |
| 1.25" | Celestron | 93529 X-Cel LX | 90 | 7 | Best All Around | Learn More |
| 2" | Zhumell | ZHUE006-1 | 60 | 7 | Best at a Budget | Learn More |
| 2" | Celestron | 93436 Luminos | 100 | 8 | Best All Around | Learn More |
| 1.25" | Orion | 8470 | 130 | 9 | Best Quality at Price | Learn More |
| 2" | Orion | 8471 | 220 | 9 | Best Quality at Price | Learn More |
| 1.25" | Baader | VIPB | 270 | 10 | Best Quality | Learn More |
| 2" | Televue | PMT-2200 | 327 | 10 | Best Quality | Learn More |
Are you thinking about the cheap route? Or are you on track for a more exceptional quality Barlow lens? Either way, the final decision is up to you. However, to help you out, here's a simple buying guide and Top 10 Best Barlow Lens for 2021. That's 5 best 1.25" and 5 best 2". We took some time and reviewed each lens and stated their respective pros and cons below.
Easy Read Graph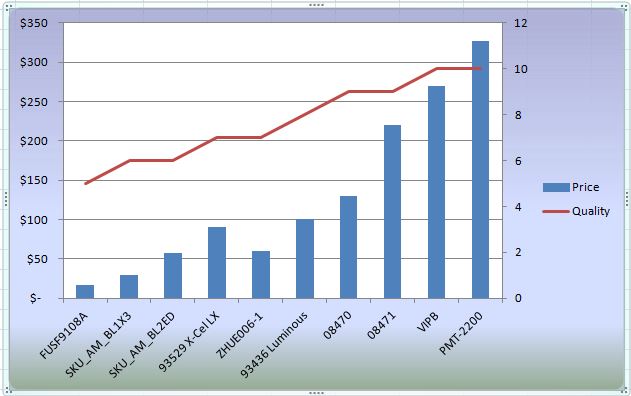 Buying Guide – How to Pick the Right Barlow Lens?
Before making any purchase, let's make sure you know what makes a good Barlow lens. There are three key things you should consider when buying – tube-size, magnification, and price.
The first thing you need to know is the size of the Barlow lens that will fit in the focusing tube, and what size eyepieces you currently have. The two standard sizes are 1.25" or 2". A quick recommendation, if you can accept a 2″ Barlow in the focusing tube, in short, it will allow more light to pass through to your eyepiece.
The second thing to consider is the magnification of the lens. Barlow lenses typically come in three magnifications – 2x, 3x, and 5x. For most beginners, we recommend you to have 2x power, or something close to it. Too much X power and you will not be able to focus, or your field of view will be narrowed too much with a 5X per se.
To get more in-depth on Barlow Lenses, take a look at this article: What is a Barlow Lens and What do They Do?
Like any other product price increases with quality. So, having a budget can be helpful going into a Barlow purchase. Like, knowing how much you are willing to invest based on the telescope you own.
There are still many inexpensive Barlows with decent quality in the market where their prices start at just under $20 or so. If you aim for a middle quality, prices start around $58 and go up from there. Meanwhile, expensive and excellent quality Barlow lenses cost from $200 and above.
Let's Get Started With the List
We are going to jump right into the list of best Barlow's. The first group is the 1.25″, and the 2″ follow.
Best 1.25″ Barlow Lenses 2021
Best Price 1.25″ Barlow Lens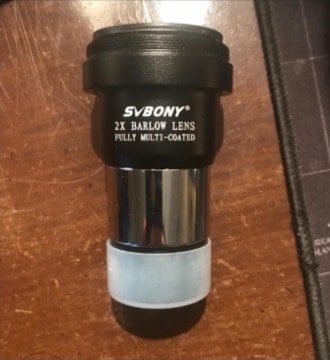 There are plenty of options for very cheap Barlow's, but the quality is then compromised. However, this one from SVBONY offers good optic quality for a reasonable price without emptying your pocket.
When used for Celestron Cosmos FirstScope for example, it provides better power and image contrast.
The machining of its parts and housing are done with much intricacy. Its compression ring, thread, anodized black aluminum body are crafted with good quality. It effectively increases eyepiece power. For instance, a 20x power will become 40x when using this Barlow. (learn more about magnification and your telescope with this article)
Overall, this lens altogether provides value for money. You can either have this as your main Barlow or a secondary alternative with a more expensive one. A perfect addition to a starter telescope.
Pros

Excellent value for the money
Reliable power increment increase
Crisp view with less light loss in the price range
Threaded for filters

Cons

No complaints at its price.
---
Best All-Around 1.25" Barlow Lens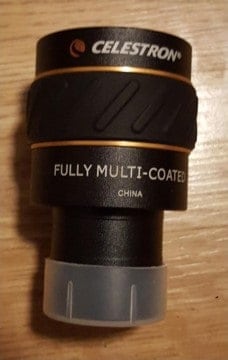 Celestron 93529 X-Cel 1.25" 2X
For a reasonable price, this Barlow has the right features and capacity to be an all-around Barlow lens for astronomical viewing. It also works with diagonals with its three-element optic system that reduces color aberrations.
It can pair nicely with any type of eyepiece, far better than the Ultima even. The sharpness and contrast of the viewed image are excellent for the price. The stylish central rubber grip helps well by providing a grip on the lens exterior. Moreover, its compression ring and thumbscrew adjustment work well in securing the hold of the eyepiece.
Pros

Reasonable price
An excellent optic system, 3-element multi-coated
Effective in minimizing color and spherical aberration
Threaded for filters

Cons
It is a good Barlow to have for all your astronomical observation.
---
Best for Budget 1.25" Short Barlow Lens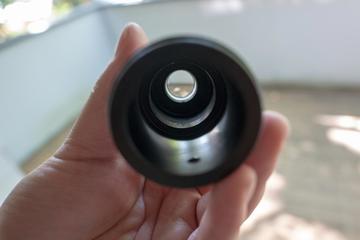 Astromania 1.25" 3X Shorty Barlow
Astromania is a known brand for making high-grade Barlow lenses. This short-focus lens is their budget-friendly option for those on tight budgets. You still get a beautiful crisp view of the image, even increasing the power 3x.
You can use this lens on a Canon T5 DSLR and SkyWatcher 8-inch Dob for increasing its ocular power. The parts and housing of this accessory are well-polished and machined. The anodized black body is also useful, allowing more contrast to the image.
It is a good lens for an affordable price that offers excellent viewing. A good lens for telescopes over 90mm. However, makes sure you can return it if it does not focus on your telescope. You can also try the 2X unit as well.
Pros

Budget-friendly short-focus Barlow
Sleek parts and housing
Effective power increment
Threaded for filters

Cons

Cannot effectively focus on some telescopes
---
Best 1.25" Barlow Lens with 2-Day Shipping
Orion 1.25" 2x 4-Element Barlow
This Barlow offers excellent optic and magnification increment with an added perk of 2-day shipping. Orion is a well-known manufacturer known to make high-quality telescopes. This Barlow is a 4-element multi-coated lens that offers 2x power.
It allows you to get a very crisp and contrasting view. The compression ring and thumbscrew adjustment work very well in securing your eyepiece. If you use a 25-mm eyepiece with this Barlow, you get a magnification equal to a 12.5-mm eyepiece without losing any light from the aperture.
It is an overall excellent Barlow lens to help expand the ability of quality telescopes. Recommended for telescopes with apertures 130mm or higher.
Pros

4-element multi-coated lens
Firmly holds the eyepiece in place
A crisp and clearer view
Threaded for filters

Cons

Presence of other alternatives but might be pricey
---
Better yet… Best High-End 1.25" Barlow Lens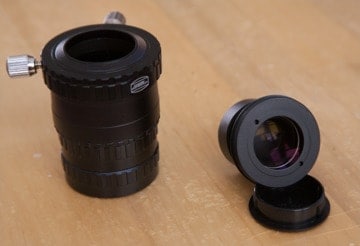 Baader Planetarium 1.25" 2X VIP Barlow
If you are willing to go the extra mile for quality and price, this Baader Barlow is the way to go. It comes with a crisp, clear view suitable for astrophotography. If you are planning on getting that clear picture of those DSO's, then investing in the Baader high-quality Barlow is the most logical method.
For the price, this lens can accept one each of an eyepiece and focuser. The entire housing of this lens is black coated to minimize internal reflection and fringing of colors. The four-element optic system can make a significant reduction on its spherical and color aberrations which distorts image quality. Designed to keep a flattened field of view.
Meanwhile, I also admire the thumbscrews and compression ring design. It safely holds the eyepiece in place. You can also tell that it is a quality piece when you hold it in your hand, feeling how well-built and machined it is. Recommended for the "professional" amateur astronomer.
Pros

Sturdy material and construction
High-quality optic system
Great for astrophotography
Threads for filters

Cons
---
Now What About 2" Barlows
The 2-inch advantage
The 2" Barlow allows more light to pass through, plus it can be a little more sturdy over a 1.25″ when mounting a camera on its end.
Best 2-inch Barlow Lenses 2019
Best Price Long Tube Barlow Lens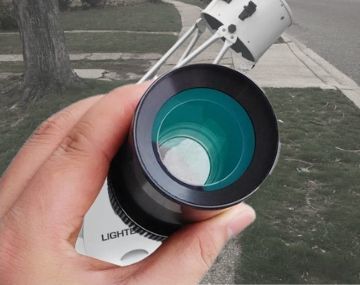 Astromania 2" ED 2X Barlow Lens
This long tube 2-inch Barlow lens has excellent optics, and for the price, we think it is unbeatable. The overall construction and machining of this lens is high-quality and made from durable materials. You would find its ED glass element effective in minimizing color aberrations which decreases image sharpness for astrophotography.
You can use this Barlow on a Canon T5 DLSR to enhance its focus and pair to a SkyWatcher 8-inch Dobs. This lens also fits best for any type of reflectors to supplement their slight back focus. The aperture size of this lens provides sufficient light for sharper image contrast.
Another thing to admire from this lens is that you can unscrew one section of the lens just to have a lower magnification, around 1.5x. This can be an advantage in focusing on certain telescopes or adjusting for that specific view.
The only gripe I heard is that it was not compatible when paired with an Orion 2-inch 38-mm Q70 eyepiece. I was not able to measure them with a micrometer to see who was off on their tolerances. Just a tremendous economical 2″ Barlow.
Pros

Cost-efficient long tube 2" Barlow
High-quality machining
Good optics and color aberration reduction
Can create a shorter body at a 1.5X
Has 2" filter threads

Cons

May not be compatible with Orion 2" eyepieces, 38mm sampled
---
Best All-Around 2" Barlow Lens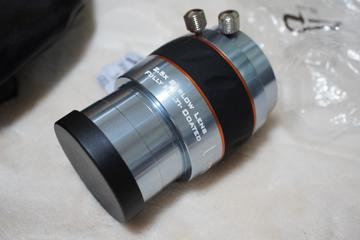 Celestron 93436 Luminous 2-inch 2.5X Barlow
Whether you are an amateur or professional astronomer, this Barlow is your best shot for an all-around tool for observational astronomy that is worth the price. The size is good and its weight just right for its purpose. You would also find its 1.25" adapter holds everything firmly without a doubt.
This one fits perfectly for an 8-inch Dob with a 28-mm deep view lens. It enhances magnification and contrast of the image. The entire assemblage of this Barlow has high-quality machining that includes its compression ring, anodized aluminum body, and its central rubber grip section.
Comparing its quality and price with other counterparts, we would say it provides much better trade-off and cost-efficiency. Moreover, its 4-element optics work incredibly by reducing chromatic aberrations.
I found that reaching for it easy in dim light as well. It is easy to figure out which one is your Barlow when it is a different color in the dim light.
Pros

Excellent 4-element optic
Solid anodized aluminum housing
Well made and durable
2" filter threads

Cons
---
Best for Budget 2-Inch Shorty Barlow Lens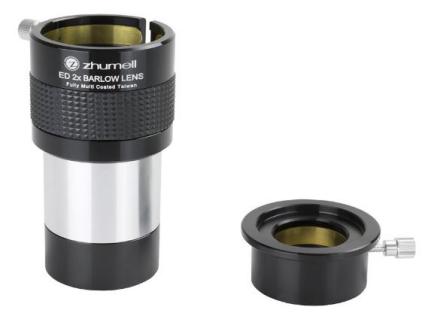 Zhumell 2-Inch 2X ED Barlow +1.25" Adapter
For those on a tight budget but, still, want to have decent quality Barlow for superb viewing. This Zhumell 2-inch "shorty" Barlow is a great solution. For a more affordable cost, you get a sharp image contrast with your astronomical exploration.
The overall features of this "shorty" lens effectively provide a clear, crisp view of the object with very little loss in light. Its thread or compression ring can firmly hold a 2″ or 1.25″ eyepieces without making scratches on its rim.
Moreover, its ED optics makes it capable of minimizing color aberrations assisting in high contrasting images.
Pros

Affordable good quality short tube Barlow
Effective color aberration reduction
Good quality construction
Threads for 2" filters

Cons

All works fine, no complaints so far
---
Best Barlow Lens with 2-Day Shipping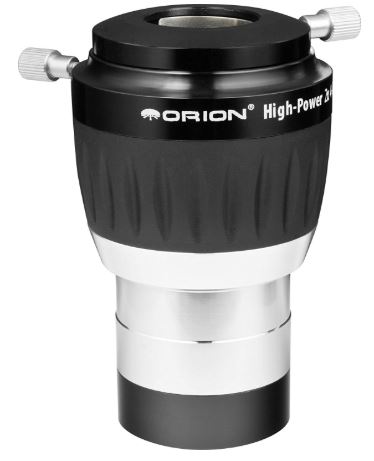 Orion 08471 High-Power 2-inch 2X 4-Element
This is one of the premier Barlow lens from Orion that you can have within 2-days. The price is reasonable when you look at its features and performance. There is flexibility in using this lens for a 2″ and 1.25″ eyepiece with its adapter. The brass compression rings also work perfectly holding a 1.25" eyepiece and adapter.
It has four-element optics, and multi-coated lenses to reduce color and spherical aberrations. It enhances the power of eyepiece without compromising the viewer's eye health and quality of the imagery. You can also notice the aesthetic central rubber grip design of this Barlow, which helps you grip comfortably, and securely in case of dew buildup.
We find this lens to effectively provide premier viewing for your 1.25" or 2" eyepieces.
Pros

Fast and safe shipping
High-grade optic system
Excellent machining on parts and housing
Threaded for 2" filters

Cons
---
Better yet….Best High-End Optic Barlow Lens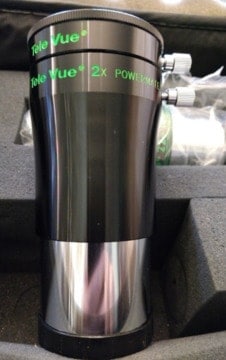 Televue PMT22002X Powermate 2-inch
Price is directly related to optic quality. If you are aiming for the top of the line optic system Barlow lens for your telescope, then this one from Televue is one of the best you can find.
If you are willing to invest in high-grade optics, then the price is immaterial. Your viewing and or astrophotography will reap the rewards.
This Barlow is a perfect fit for CMOS astrophotography cameras. It truly lives to its claim in providing a crisp and clear image without loss of light. The black edge of the lenses helps keep a high contrast of your viewing. So far, I have heard of no complaint regarding incompatibility or craftsmanship.
Plus it comes in higher powers for straight astrophotography without the eyepieces.
The recess section of the tube prevents the Barlow from falling when setting on a flat. Its overall machining is clean and well-polished.
Pros

Premier option for crisp astrophotography images
High-quality parts and machining
Premier optic system
2" filter threads

Cons
---
Why These Barlows Made The List
These Barlow lenses made it to the list because they successfully satisfied the criteria in quality construction and lens quality. The essential things considered include achromatic reduction coatings, optical quality, housing material, and its overall quality.
Achromatic Coatings
These are coatings applied on the Barlow lens to eliminate reflection of colors and light inside, which enhances the clarity and purity of the image viewed. Moreover, it sharpens the quality of image and comfort on the viewer's eyes.
Optic Quality
This refers to the innate quality of the Barlow lens. Typically, expensive ones have better lens quality compared to the cheaper options in the market. However, you can always strike in the mid-range lens quality.
Construction Material
This refers to the material used in the body and parts of the Barlow lens. Likewise, it also talks about how well the materials were crafted by a specific brand.
Majority of Barlow lenses have their housing made from quality aluminum and anodized black body. In contrast, some have a durable plastic body.
Make sure it is not shiny plastic on the inside of the tube.
Rubber insulation can also be wrapped around its body to ensure a good grip. The compression ring inside is made from brass and ensures the eyepiece is securely held in place and will negate or minimize scratching
Overall Quality
At this section, you need to consider all the things mentioned earlier and how it significantly makes your particular Barlow lens worth the price. Sometimes this is most evident when you hold it in your hand.
What Does Achromatic Mean With A Barlow?
If we say a Barlow lens is achromatic, it means it is composed of two lenses stuck together and become one. It is mostly a combination of convex and concave lenses. The overall result is an enhanced performance by effectively reducing chromatic aberration or splitting of colors and lights in various directions.
An achromatic lens for a Barlow means it is composed of at least two lenses. While an apochromatic Barlows typically have three or more lenses.
Meanwhile, if a Barlow lens has achromatic coatings, it means the coating helps to eliminate internal reflection inside the glass. The end result is a sharper clearer image.
What Difference Does It Make Between 2, 3, or 4 Lenses?
In the field of lenses, an "element" refers to a single lens comprising the entire optic system. For instance, a Barlow lens with 2-elements means the whole optic system is composed of two individual lenses stuck together.
Meanwhile, a 3- and 4-element Barlow lenses simply mean the entire optic is composed of three and four individuals lenses stuck together, respectively.
How to Determine Quality Barlow Fabrication
Having an ocular inspection on the fabrication quality of a Barlow lens can be seen on its interior and exterior finish. Majority of good quality Barlow's have their housing made from quality aluminum with rubberized grip insulation wrapped around. A non-reflective dark surface inside the tube, and a brass compression ring to hold and secure the eyepieces.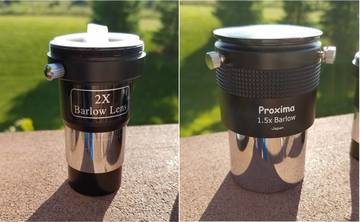 A few of these lenses also have safety grooves to keep the lens from falling. There is also the thumbscrew threads are significant enough not to pull or strip. Of course, it does not take much force to secure an eyepiece with a quality brass ring.
Which Is My Favorite Barlow and Why
From my list, my favorite Barlow lens is Celestron 93529 X-Cel 1.25" 2X. It is an upper mid-range quality lens with a price around $100 for most any budget. Its multi-coated 3-element Apochromatic lenses make it perform as well as the more expensive Barlows for the average astronomer and on most telescopes.
The reasons this guy won; it is 1.25″ and will fit in 99% of all telescopes. As touched on above, the quality is that in which 80% of telescope users will not be able to notice the quality enhancement with lenses 2 or 3 times the cost. The last reason was that it was the best lens under $100 when I bought it.
You get crisp and clear views of your image. It looks good too with the orange accents incorporated in it. The optical quality of this lens is excellent and comparable to the more expensive ones.
If you have a slow or fast telescope, this can do very well in elevating its viewing quality. Can you do better in view quality, yes, but overall, you can't go wrong with this Celestron Barlow as part of your telescope accessory kit. To learn more about what makes a telescope fast or slow, click here.
Now all that said, which one would I want if money was no object…The 2" Televue! However, money is an object, and that is why I started this blog to help people get a telescope they can enjoy within their budget.
Need More?
We've come to the last part of sharing about Barlow lenses. Hopefully, we have made it worth your time. If you liked this article and would like to learn more about Barlow lenses and what they can do for you, click here.
Also, here are some articles that you may find informative as well.
What to Look for When Buying a Used Telescope